Changing the Political Landscape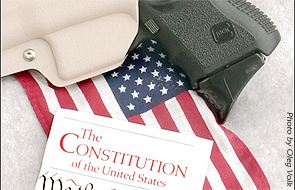 Everybody is talking about change right now. Political retirements are making headlines across the country and across the state. But as we close in on the deadlines to file for office, we now realize that not all change is good change for gun owners. In fact, in the current streak of anti-incumbent attitude, we stand to lose ground if gun owners don't get involved in campaigns quickly.
Federal Offices
PA-15
Representative Charlie Dent has been an ally of gun owners for years, but he's got a top-tier challenger backed by the Washington, DC Democrats and President Barack Obama. His challenger, John Callahan, is currently funded by NYC Mayor Michael Bloomberg in a coordinated effort to undermine preemption of gun laws in Pennsylvania and undo the key Supreme Court decision that ensures our laws are consistent throughout the state. He works closely with a lobbyist for the Brady Campaign to promote more gun control at the local level.
If we don't re-elect Rep. Dent, we'll see an A rated seat flip to F overnight.
PA-12
An initial look at early names dropped for the seat appeared very bright for gun owners, but question marks linger. Since that early peek, more names have been mentioned as likely competitors and some have already removed themselves from the race. Unfortunately, a good number of the names floated have no record on our Second Amendment rights. Until candidates are finalized by party leaders, we may not know whether gun owners have a friend in the race.
This previously A rated seat may be headed into unknown territory unless gun owners call their respective political party leaders and let them know that any nominee for the special election to replace Rep. John Murtha should share his dedication to our rights.
State Offices
Senate District 14
With the retirement of Senator Ray Musto, a previously A rated seat is now up for grabs. There are two known Democratic candidates who are running for the seat, one who has a record in support of our rights and another who is working with anti-gun forces. State Rep. John Yudichak is an A rated and previously endorsed lawmaker with an eye on the seat. His primary challenger is Tom Leighton who, like one previously mentioned candidate, is also working with NYC Mayor Michael Bloomberg to undermine preemption of gun laws and undo a major Supreme Court decision on the matter. Leighton also works closely with the Brady Campaign lobbyist in this effort.
Senate District 22
The retirement of Senator Bob Mellow is particularly noteworthy for gun owners across the state. As the highest ranking Democrat in the State Senate, his support for the Second Amendment made him a powerful ally within the Senate and his party. With an A- rating, a flip of his seat to an anti-gun candidate would be tremendous loss. Among candidate names floated so far, this seat could upgrade to an A or downgrade to an extremely anti-gun candidate.
State Rep. Jim Wansacz currently holds an A rating and has declared his candidacy for the seat. However, since Chris Doherty has abandoned his gubernatorial run and in an effort to take the Senate seat, this will be a hot primary race for gun owners. Doherty has called for an end to preemption of gun laws in the state, meaning your concealed carry license may no longer be valid from town to town and various types of guns may be banned in different cities. He also wants to limit the number of firearms gun owners may purchase, and presumably, create a registry to track such sales in accordance with the policy he is pushing.
11 House Seats
Due to retirements, efforts to reach higher office, and early resignations, there are 11 seats open that have been previously rated A or higher. Those who run for these seats are usually political newcomers or in offices that have little to do with Second Amendment and hunting issues. As usual, NRA-ILA will send out questionnaires to the candidates to get them on the record. However, the final list of candidates won't be available until after petitions have been returned to appropriate election officials.
How to Help
There are three key ways to support pro-gun candidates right now.
The easiest way is to donate money, especially if they have a primary battle for their party's nomination. Those elections are now three months out, so there is not much time to spare in order to raise money and get word out quickly.
The cheapest way to help a candidate is to volunteer your time. Â Beginning today, candidates need to collect signatures in order to get on the ballot, and those deadlines are approaching. Â Lending a few hours of your time is highly valuable to a campaign, and it costs you nothing.
The minimum effort gun owners need to put out right now is letting their friends and family members know who to support. Â Make sure everyone is registered to vote, and make sure they know who you are voting for in the next election. Â If you won't open your wallet or donate your time, gun owners must absolutely open their mouths to promote candidates to everyone they know in the district.
These races show that we're at risk here in Pennsylvania. Â If we end up filling pro-gun seats with anti-gun candidates, the next big attack on gun rights will happen right here in the Keystone State. Â It's up to us to make sure that these candidates who loathe our Second Amendment rights are sent to the curb, and these seats remain in pro-Second Amendment hands. Â Don't put your hunting and gun rights on the line this year.