Nat'l Concealed Carry License Reciprocity Needs Your Help!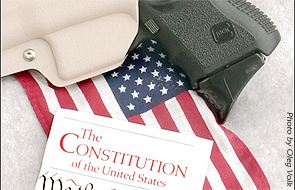 Tomorrow, July 22, the United States Senate is expected to vote on an amendment that would allow for national reciprocity of state-issued concealed carry licenses.  No longer will Pennsylvanians have to hope that a state they are visiting has a friendly official willing to sign a reciprocity agreement with our Attorney General.
Pennsylvania's Senators Bob Casey and Arlen Specter need to hear from you!  Neither has been willing to make a statement on their feelings on the amendment offered by Senators John Thune (R-SD) and David Vitter (R-LA).
Call Senator Bob Casey at (202) 224-6324 and Senator Arlen Specter at (202) 224-4254 tonight or tomorrow morning! Tell them to vote yes on the Thune/Vitter amendment for national reciprocity.
UPDATE: One hour before the vote, Sen. Specter has declared he will vote against the state's 600,000 license holders. You still have time to call and tell him he is wrong!