MAIG Lacks Public Support for Agenda in PA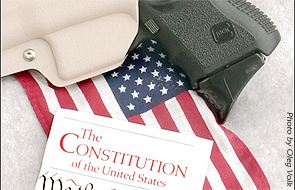 The effort to upend state preemption of gun laws lead by MAIG mayors such as Stroudsburg's Charlie Baughman and Telford's Jay Stover faces strong opposition by Pennsylvania residents.
A solid 56% of Pennsylvania voters agreed with the Ortiz v. Commonwealth decision that has stood for 13 years declaring that the state legislature is the only body that may create gun laws. Of those, 39% strongly agreed that local leaders should stay out of these debates.
Interestingly, there is only a 5 point difference between gun-owning households and non-gun-owning households. Among gun owning homes, 59% believe the state should be the only body to make gun laws. That leaves a solid majority – 54% – of non-gun-owning homes who agree.
What some may find to be unexpected, there were few party differences on these views as well. Among Democrats, 56% support state preemption. The approval remains strong with others with 54% of Independents and 57% of Republicans agreeing with state preemption.
The survey was conducted in advance of the judicial elections on November 3.