Bucks County Polling Places Moved -UPDATED!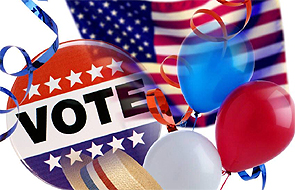 UPDATE: Bucks County has opted not to move Quakertown polls in the schools, so voters will report to their normal polling location. However, one Springfield polling site has been temporarily moved:
On Sept. 29, voters who normally cast ballots at Zion Lutheran Church must report to Springfield Church of the Bretheren at 920 Passer Road.

Voters affected by the temporary change will receive special postcards in the mail.
—
Local media outlets report that polling locations in upper Bucks County could be moved just before a special election for the region's Senate seat in district 24. The decision will likely be approved at tonight's Board of Elections meeting. At this time, it appears to primarily impact Quakertown elementary schools which previously housed polls on Election Day.
The Bucks County Board of Elections is expected to vote at its Tuesday meeting to relocate these polls. If approved, the school district would no longer have to cancel classes on election days.

This issue came to a head this month when the district realized there would be significant scheduling problems and a cost associated with the special Sept. 29 election for the 24th state Senate District, a seat vacated with the resignation of Rob Wonderling. …

The following are the proposed polling place changes to be approved by the election board:

Neidig Elementary to Trinity Lutheran Church, 102 N. Hellertown Ave.
Quakertown Elementary to the James A. Michener branch of the Bucks County Library, 401 W. Mill St.
Tohickon Valley Elementary to East Swamp Church, 2405 East Swamp Rd.
Advertisement
Richland Elementary to Strayer Middle School, 1200 Ronald Reagan Dr.

Although Strayer is a Quakertown district school, the building has a separate section that can accommodate voters without interfering with students. …

There is one other proposed polling place change associated with the special election.

The county is expected to move Springfield voters who normally cast ballots at Zion Lutheran Church to Springfield Church of the Brethren at 920 Passer Rd.

Zion Lutheran cannot accommodate voters on Sept. 29. The move, if approved Tuesday, would be temporary and voters would be back at Zion Lutheran for the general election on Nov. 3.
Should there be changes made to these proposed locations, we will notify the area's gun owners.
The special election for the region's Senate district currently has no endorsed candidate. The Republican nominee, Rep. Bob Mensch, has previously been endorsed for his House seat and maintained an A rating for his work on behalf of Pennsylvania's sportsmen. The Democratic nominee, Anne Scheuring, has no voting record or grade at this time. Barbara Steever, the Libertarian nominee, is also unrated at this time.