Castle Doctrine Lawmakers Celebrate
Based on the smiles on their faces and the speed of their social network updates, more than a few lawmakers were genuinely excited to see Gov. Tom Corbett sign the important self-defense bill into law. Here's a roundup of statements, tweets, and other posting by lawmakers who fought so hard to pass Castle Doctrine this year.
"It is a great day for Pennsylvania. I am grateful to Governor Corbett for signing the original Castle Doctrine into law. This will enable law-abiding citizens in our Commonwealth to defend themselves in the face of violent attack. There are many people who worked very hard over the past few years to make this bill become the law of the land.

"Our citizens who work hard and abide by the rules of decent society deserve the protection of the law. They deserve our best effort, and it is gratifying that both chambers of the General Assembly and the governor agree with this. The bill enjoyed wide bipartisan support during the process of passage and I am grateful to all who backed this effort."
"Governor Tom Corbett's signature on legislation that will allow law-abiding citizens to protect themselves is a victory for the people. The new law removes the duty to retreat and allows Pennsylvanians to stand their ground and fight off an attacker. This measure will allow an individual to take whatever action may be necessary to preserve his or her life and protect the safety of loved ones when legitimately threatened.

"This is one of the most popular proposals among York County residents. I have heard from so many people who are fed up with laws that protect criminals and ignore the rights of victims. The new law will provide civil lawsuit protection for those citizens who genuinely act in self defense and will hinder the attempts of criminals to seek jury awards for injuries they receive in the perpetration of a crime.

"I applaud Representative Scott Perry and all my colleagues in the House who came together to make this proposal a reality. It was a great blow to our civil rights when former Governor Ed Rendell vetoed this legislation last year, but Governor Corbett's signature today goes to show that nothing can stand in the way of good policy."
Rep. Grove also gave a live Facebook update while he was at the ceremony.
Rep. Stephen Bloom joined the live updates on his Facebook page, and he shared a picture of himself with several other lawmakers, NRA lobbyist John Hohenwarter, and Gov. Tom Corbett.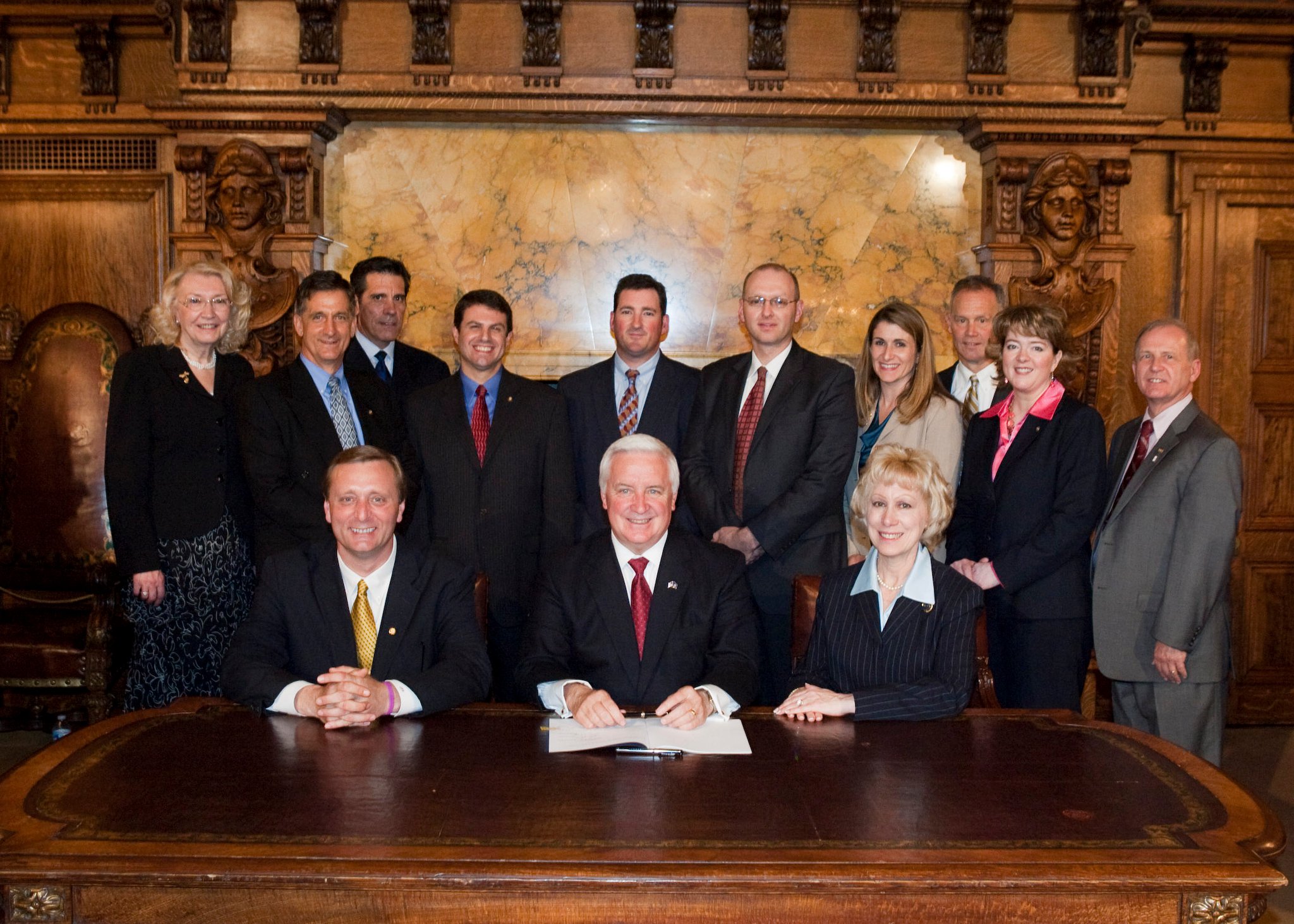 Rep. Keith Gillespie posted a similar picture with a number of House supporters of the bill and added this comment:
As one who would do all in my power to avoid taking someone else's life but would protect my family to the death if necessary, I support House Bill 40, the Castle Doctine legislation. I was proud to today be in the company of Gov. Corbett as he signed the legislation into law.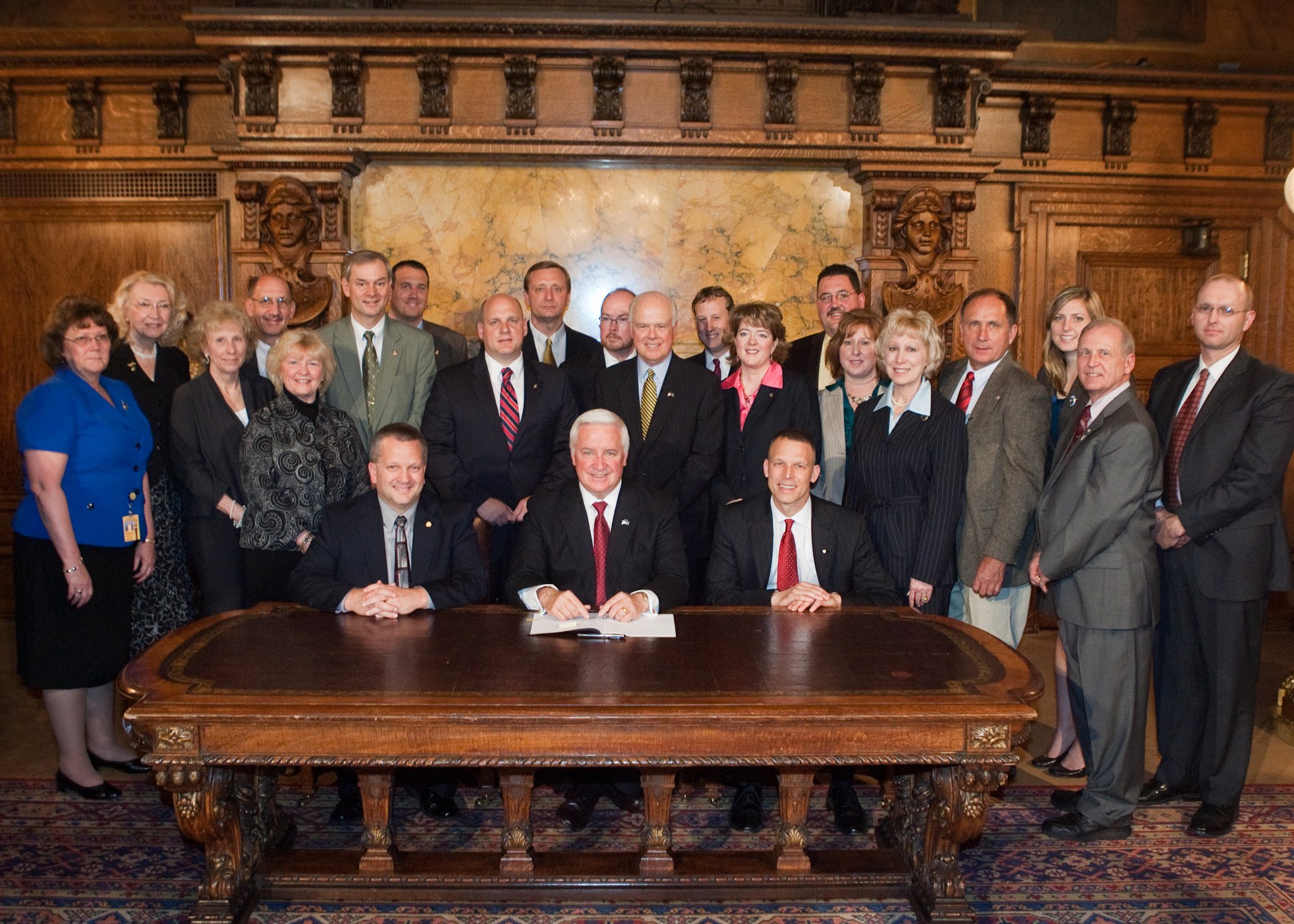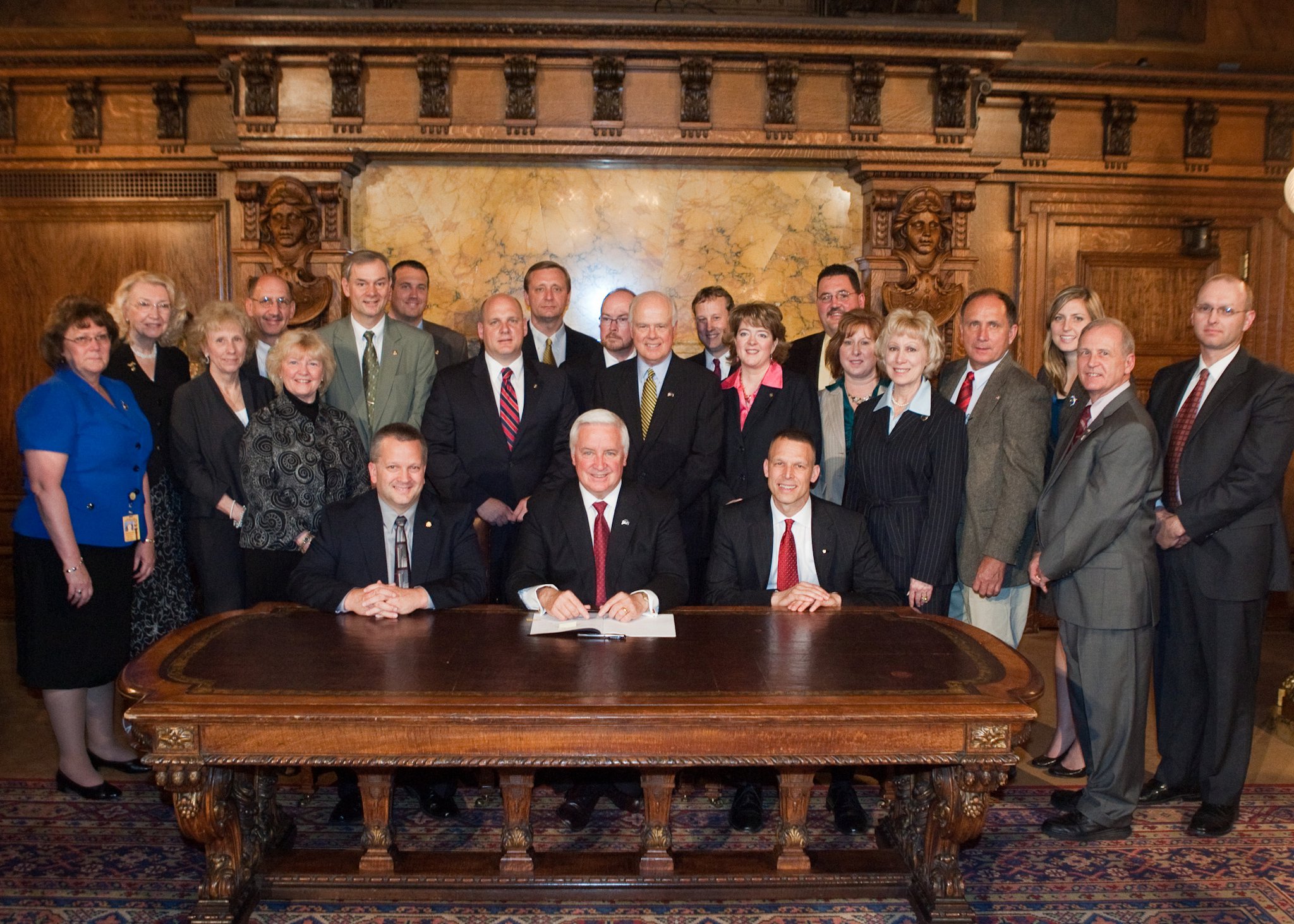 Posting the same picture as Rep. Gillespie, Rep. Ron Miller added his comment:
As one of the cosponsors of House Bill 40, I was pleased to have been in attendance today as Gov. Corbett signed into law the Castle Doctrine legislation.
Rep. John Evans also posted his comments on the bill from the signing:
The governor has signed the Castle Doctrine, which helps strengthen our right to using self-defense in the face of imminent danger. This is an important measure that we have been fighting for in the House for a long time.
On the Senate side, a Democratic staffer tweeted this picture of two Senate supporters from the bill signing: