Patrick Murphy & Washington DC's Gun Laws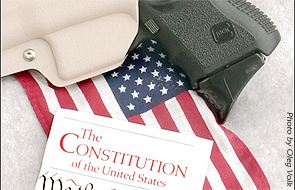 Last week, we secured a major victory when 62 Senators – a strong bipartisan majority – voted in favor of an amendment that would repeal Washington DC's draconian gun laws to a bill that would give the District of Columbia a voting seat in the House of Representatives. (The new post-Heller laws are nearly as bad as the outright gun ban, and are the subject of yet another lawsuit which has yet to be heard.) The Senate made clear to the leaders of the District that if they want to have a vote in the United States Congress that they must honor the Bill of Rights.
However, Nancy Pelosi is so frightened to allowing a bill that gives DC residents the right to keep firearms in the home like the rest of us that she actually pulled the bill from the calendar to avoid having a pro-gun amendment added. The pressure is on in the House. We need to remind Congressman Patrick Murphy that he represents us and he should cast votes that reflect the will of his constituents and not another politician from San Francisco.
This morning, the Washington Post published an article that gives us an idea of what Pelosi's game plan is to allow DC City Council to keep thumbing their nose at the Heller decision by the Supreme Court. Left-leaning groups who want to see another anti-gun vote (assuming Delegate Eleanor Holmes Norton is re-elected to the new seat) in the House are putting pressure on 60 moderate Democrats to try and pull away the 28 votes they need to avoid having the amendment attach on the House floor. Cong. Murphy is likely in those targeted groups. He's being told that people back home aren't watching and don't care about gun rights enough to care whether DC residents may own them or not.
This battle over a local Second Amendment issue will have repercussions on the entire country, and will definitely effect the 2010 elections. The leadership in the House is twisting the arms of lawmakers in an attempt to get the D.C. Voting Rights Act passed without the amendment requiring DC to honor the Bill of Rights and Supreme Court decision. Pelosi, along her allies Norton and Steny Hoyer, are running around trying to convince Democratic lawmakers that the NRA is no threat to them. It is our duty as NRA members to remind them that it simply is not true.
Call Cong. Murphy to tell him that you want his vote for a gun rights amendment if the DC Voting Rights is to be heard. His phone number is (202) 225-4276.