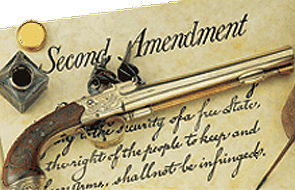 Sticking to his 100% Brady Campaign rating, Joe Sestak renewed his calls for a gun ban today.  According to the Pittsburgh Post-Gazette's political blog, Sestak called for bringing back the ban on semi-automatic rifles and certain handgun magazines.
"This recent incident recommits us to re-institute the assault weapons ban originally instituted in 1994. I have continuously pushed for this ban to be re-instituted since I came to Congress in 2007, including just last year when I cosponsored The Assault Weapons Ban and Law Enforcement Act."
It would appear that Sestak will use his primary campaign as a vehicle to push for added restrictions on gun owners across Pennsylvania.  He has proudly displayed his anti-gun credentials with his previous endorsements from NYC Mayor Michael Bloomberg and the Brady Campaign.  Congressman Sestak has recently opposed concealed carry legislation and touted his support of the anti-hunting Humane Society of the United States.
Some may wonder how these policy positions will play statewide as Sestak campaigns outside of Delaware County, just south of Philadelphia.