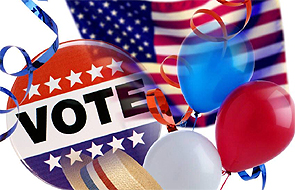 In their latest voter education project, NRA is daring you to Trigger the Vote in 2009 and 2010. According to the NRA, upwards of 22 million gun owners may not be registered to vote.
According to the U.S. Census Bureau, approximately 72 percent (142 million) of the eligible voting age citizen population (197 million) was registered to vote in 2004.

This means that more than 55 million people were unregistered, and therefore did not participate in the November 2004 elections. This figure is larger than the number of votes cast for either George Bush (50.5 million) or Al Gore (50.9 million) in the 2000 elections.
To support this effort, NRA is working with member Chuck Norris to recruit gun owners to get prepared to hit the polls in time for next year's primary & general elections.
[youtube]http://www.youtube.com/watch?v=WHUOdvezAzU[/youtube]
Pennsylvania voters in the 24th State Senate District need to trigger the vote a little earlier than the rest of us. There will be a special election on September 29, 2009. In order to participate, you must register by August 30. In Pennsylvania, you can register any number of ways.
Register to Vote in Person
You can register to vote at a County Voter Registration Office or other designated sites.
Register to Vote by Mail
You can register to vote by mail in two ways:
Get a Voter Registration Mail Application form from the state or federal government. The Secretary of the Commonwealth and all county registration commissions supply Voter Registration Mail Applications to all persons and organizations who request them, including candidates, political parties and political bodies and other federal, state and municipal offices.
Download the Voter Registration Application. Print, complete, sign and deliver to your County Voter Registration Office by mail or in person.
Register to Vote at PennDOT
You can register to vote at a PA Department of Transportation photo license center when you obtain or update your driver's license.
Register to Vote at Government Agencies
In addition to PennDOT, you can register to vote at many other state government offices, including:
State offices that provide public assistance and services to persons with disabilities
Armed Forces Recruitment Centers
County Clerk of Orphans' Court offices, including each Marriage License Bureau
Area Agencies on Aging
Centers for Independent Living
County Mental Health and Mental Retardation offices
Student disability services offices of the State System of Higher Education
Offices of Special Education
DA Complementary Paratransit offices