The Guaranteed Strategy to Winning Elections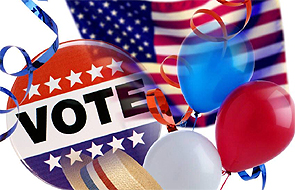 Show up.
Yup, that's it. Show up to the voting booth, push the button/pull the lever/fill in the oval, and remind your family to do the same.
That seems simple, right? Well, it usually is. Unfortunately, it looks like some folks in Virginia forgot about that important step in Tuesday's special election to fill a state Senate seat.
… [The] point in the article was that just because the GOP won a major victory by sweeping all three statewide offices and picking up seats in the House of Delegates, you still have to do the work and turnout the vote. It is clear from the election returns that those inclined to support [NRA endorsed candidate Steve] Hunt simply did not show up at the polls yesterday in those areas where they could have made a difference – precincts that [A+ rated former Sen.] Ken Cuccinelli carried in 2007.

According to blogger Not Larry Sabato – Hunt flipped several precincts that Cuccinelli's 2007 opponent carried but had little or no margin of victory in precincts that Cuccinelli carried. Hunt also was skunked in the absentee ballots, losing them by almost 500 votes in an election that he lost by a total of 317 votes.

The lesson Pascoe points out to the GOP rings true for gun owners as well. Every election is important and we must be engaged in those races where we can make a difference.
David Adams, president of the Virginia Shooting Sports Association & NRA-EVC in Virginia's 7th District, continues to outline just what this means for Virginia's gun owners.
A previously A+ rated seat has now switched to F rated in the state Senate; and
An open seat on the Senate Courts of Justice Committee which determines whether many of the pro- or anti- gun bills are released for a full Senate vote.
This is not good news for gun owners in Virginia. Â Some might have forgotten it was the date of a special election, but that's not going to help for the next session. Â Since Virginia has off-year elections, they won't vote on this seat again in 2010. Â There's no correcting the mistake until at least 2011.
In Pennsylvania, we have several special elections scheduled the same day as the primary election. Â Make sure you show up so that our gun rights are not forgotten.