Top Ten Counties for Gun Owners
The York Dispatch recently ran stories on the rising number on concealed carry applications in York County, but they took note of just which counties were top spots for gun owners in 2008 based on license and federal dealer data. Â You might be surprised by which counties made the top ten.
Area sportsmen say Marylanders might be partly responsible for another phenomenon: York County's consistently high ranking statewide in the number of people licensed to carry a firearm.

The county is eighth in the state in terms of population, but in 2008 ranked fifth in Pennsylvania in the number of permits issued to carry a concealed weapon.

In 2007, York County issued the third highest number of permits in the state. And, since 2002, York County has never dipped lower than seventh in the number of permits issued.

The county also ranked third highest in the number of licensed firearms dealers in 2007 and 2008.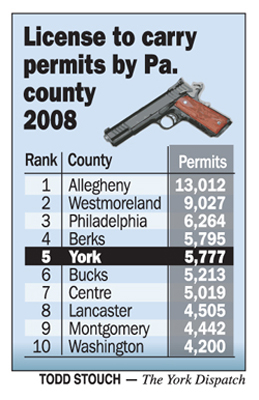 With license to carry issuance data for 2008, we can see which counties recorded the most:
Allegheny
Westmoreland
Philadelphia
Berks
York
Bucks
Centre
Lancaster
Montgomery
Washington
As for the counties with the most firearms dealers in 2008, we see slightly different names on the list:
Westmoreland
Allegheny
York
Bucks
Berks
Lancaster
Luzerne
Montgomery
Chester
Cumberland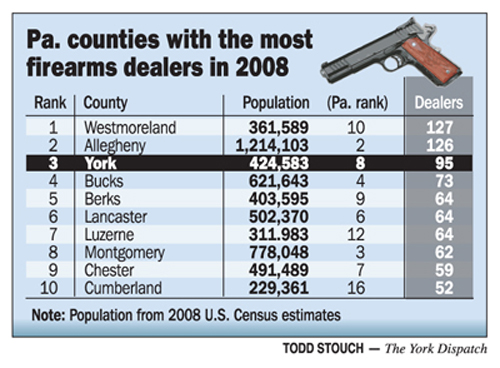 It will be interesting to see if the numbers of concealed carry applicants continues to rise. Â Many have sought permits as part of what is jokingly termed "The Great Obama Gun Rush." Â While gun sales have cooled, and ammunition can sometimes be found on store shelves again, it remains to be seen if the rising number of students in firearm safety classes and permit applicants stays on up upward course or levels out as well.