Lower Profile Elections Next Week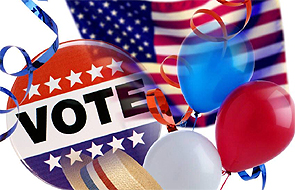 Be honest, how likely are you to vote next week? Maybe you're received advertisements for local elections from auditor to supervisor. If you live in a Bloomberg-controlled town, perhaps you're fortunate to find out that your anti-gun leader is being challenged. But let's face it, if it is raining and you wake up a little late or feel the need to stay at work for an extra half hour, are you still going to swing by your polling place next Tuesday?
But if you want to stand up for freedom, this election has at least one race on the ballot statewide that is likely to make a direct difference for our gun rights.
The NRA Political Victory Fund endorsed Judge Joan Orie Melvin for Supreme Court earlier this year.
The election of a pro-rights candidate to the Supreme Court is vital as gun owners around the state challenge their town leaders who are passing illegal gun control ordinances. Thirteen years ago, the Court ruled that when the Legislature passed firearms preemption, local gun laws could not stand. This meant that Philadelphia couldn't ban people from carrying lawfully to protect themselves, hunters crossing the state didn't need to worry if their firearm was legal as they crossed each county line, and if a sport shooter moved to another town, he would have the same protections for his gun rights.
Right now, mayors under the leadership of NYC's Michael Bloomberg's anti-gun group are challenging that ruling by passing local ordinances ranging from "lost-and-stolen gun" laws forcing gun owners to prove their innocence in several towns around the state to semi-auto gun bans in Philadelphia & even Pittsburgh. These efforts have been challenged in lower courts, and some gun owners may well end up taking their cases to the Supreme Court in coming years. Should that happen, it is important to have Justices who believe in the rule of law and recognize that the state legislature has long held control over the issue of our gun rights.
If you can help at all by either putting up a sign or lending a hand to make a few voter phone calls, sign up through her webpage here. It's not too late to lend a hand.
UPDATE: NRA-PVF has also announced they have endorsed the following judicial candidates:
Commonwealth Court: Kevin Brobson & Patricia McCullough
Superior Court: Sallie Mundy, Judy Olson & Temp Smith