The Colorful Political Scene in Pennsylvania
If you take a look at the latest Cook Political Report survey of Pennsylvania's races, you just might go color blind.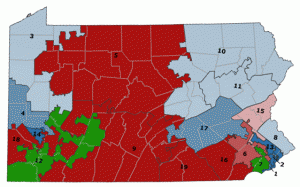 Charlie Cook, the non-partisan analyst, has billed Pennsylvania's Congressional races some of the most competitive in the country. Two districts – PA-7 and PA-12 – are rated complete toss-ups. This means the ground game of candidates will make the difference. For the two major candidates in PA-12, they are on an accelerated schedule with a special election on May 18. In PA-7, it is an open seat that has been held by both the GOP and Democrats in recent years. We know the Democratic nominee, state Rep. Bryan Lentz, is rated F.
In the leaning Democratic category, we have four seats: PA-3, PA-8, PA-10, and PA-11. In the 3rd & 8th districts, both of those incumbent Democrats have a lousy record on gun rights – rated F and D+ in the last election, respectively. In the 10th, things look slightly better should Democrat Chris Carney hold on to his seat with his previous rating of B. NRA members should also expect that Paul Kanjorski will hold on to his endorsement in the 11th because of his strong A rating from past votes. However, should the winds shift in the district to toss-up, his opponent Lou Barletta is a re-match from 2008 who was also rated A.
For the GOP, they only have one seat that "leans" to their party, and it is PA-15. If the political winds prevail and gun owners lend a hand to their friend in office, Rep. Charlie Dent, then we would keep an A rated seat from flipping to the hands of an opponent who is working with Michael Bloomberg to bring New York City gun control to Pennsylvania.
In the likely category, Republicans again only have one seat in their favor. The good news for gun owners is that it is for PA-6, held by endorsed and A rated Rep. Jim Gerlach.
Again, for the Democrats in the likely category, they stand a good chance of holding onto two seats – PA-4 and PA-17. Once again, gun owners won't necessarily lose with these trends because both Democratic incumbents are A rated. In PA-17, the likely GOP challenger is also A rated. Any change in the tide shouldn't impact the district's sportsmen in any serious way.
The solid category is the only one where the GOP bests the Democrats this year, with a count of 5-4. The safe Democratic seats – PA-1, PA-2, PA-13, and PA-14 – are all F rated incumbents. Unless a political earthquake happens, these seats will all remain in the hands of candidates who are bad news for the Second Amendment and hunting rights. The safe Republican seats, on the other hand, are a much better picture for sportsmen. Those seats are: PA-5, PA-9, PA-16, PA-18, and PA-19. All are held by candidates with an A rating, save PA-19 whose incumbent is still a well-rated A-.
In the races for US Senate and Governor, Cook has billed both races as solid toss-ups.