Sportsmen to Rally for McCain!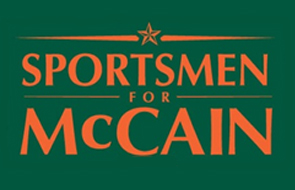 Senator John McCain is coming to Bucks County Saturday!
Sportsmen will make a huge impact in this election, and we have a special opportunity to stand out in support of John McCain and Sarah Palin at this rally. If you have not had the opportunity to hear the NRA-endorsed presidential nominee speak live, you shouldn't miss one of these last few chances.
Joining Senator McCain will be NRA-endorsed Congressional candidate Tom Manion.
Please let me know if you plan to join us for this event. We'll let you know of any special opportunities for sportsmen at the event. (Contact form available here.)
Perkasie Rally Details and Ticket Locations

Road to Victory Rally with John McCain
SATURDAY, NOVEMBER 1, 2008
Doors Open 12 noon, Program Begins 2pm
Pennridge Regional Airport
1100 North Ridge Road
Perkasie, PA
Locations for Ticket Pickup:
Bucks Victory Office
1410 West Street Road
Warminster, PA 18974
Hours: 9-9
Bucks County GOP Headquarters
115 North Broad Street
Doylestown, PA 18901
Hours: 9-7
Montgomery Victory Office
475 Norristown Road
Blue Bell, PA 19422
Hours: 9 – 9
Lehigh Valley Victory Center
2285 Schoenersville Rd
Bethlehem, Pa 18017
Westgate Mall
Hours: 9-9
Northampton County GOP Headquarters
423 Nazareth Pike (RT 191)
Nazareth, Pa. 18064
Hours: 12-7