Deadline to Submit Comments on National Park Carry Approaching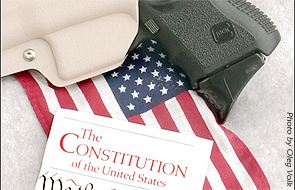 The deadline to submit your comments in support of the right-to-carry in the National Park system is fast approaching!
The last day to submit a comment is Friday, August 8.
Like a quarterback taking a knee in the fourth quarter, two of Congress's most ardent opponents of our Right to Keep and Bear Arms are trying to run out the clock on efforts to enhance your right to self-defense in our national parks and wildlife refuges.

For two months, we have been asking NRA members and gun owners to submit comments in support of allowing law-abiding citizens to carry their legally-owned firearms in national parks and wildlife refuges — and tens of thousand of you have done so. The deadline to submit comments expired on June 30 — or so we thought.

Rather than closing the proscribed comments period as scheduled and moving toward finalizing this federal regulation, U.S. Senator Daniel Akaka (D-Hawaii) and U.S. Representative Raul Grijalva (D-Arizona), succeeded in delaying the implementation of the final rule by bullying the Department of the Interior (their respective congressional subcommittees have oversight of national parks) to extend the deadline for comments an additional 30 days!
This is also an important reminder about the upcoming elections. In November, our votes for the White House will determine what kind of bureaucrats will be appointed to oversee full implementation of the anticipated change in policy. Electing an anti-gun president may put any positive change for gun owners at risk.