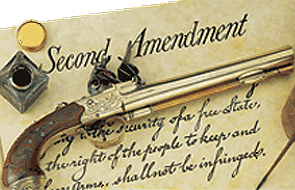 This article is from NRA-ILA, published on the NRA-ILA website. No U.S. Senators are facing an election in Pennsylvania this year. However, the importance of down ticket races for our Second Amendment and hunting rights can not be emphasized enough.

With everything that's at stake in the coming election, perhaps nothing is more important than our narrow pro-gun majority in the U.S. Senate. No matter how popular the president, a strong Senate can block anti-gun schemes … or move pro-gun legislation ahead in the face of a veto.
The Senate is important when it comes to firearm legislation, but it is everything when it comes to "advice and consent." The Senate must confirm every important appointment made by the president. Judges, cabinet members, ambassadors and agency heads—even the director of the Bureau of Alcohol, Tobacco, Firearms and Explosives—all must be approved by the Senate. And no treaty can be entered into without the consent of the Senate.
So the question is simple: Do you want federal judges hand-picked by Chuck Schumer and Dianne Feinstein? Do you want our representative to the United Nations to be selected by Richard Durbin or Hillary Clinton? Do you want Joe Biden moving to ratify a u.n. gun ban treaty?
If we lose our majority, that is what we face. A one-vote change in the Supreme Court and the Supreme Court's Heller decision could be reversed. The wrong man at the U.N., and U.S. officials will start working with, instead of against, the radical anti-gun extremists that make up that body.
What's more, the political situation in the Senate is extremely fluid. Over the past 50 years, political party control of the U.S. House of Representatives has changed hands just twice, in 1994 and 2006. The U.S. Senate, however, has changed eight times: 1980, 1986, 1994, 2001 (three times), 2004 and 2006.
Just in the past eight years, the greatest deliberative body in the world has changed leadership five times. And right now, the Democrats control the U.S. Senate by just one vote with a 51-49 seat majority (for organizational purposes, Independents Joseph Lieberman of Connecticut and Bernie Sanders of Vermont are counted as Democrats). However, gun owners enjoy a narrow majority of two or three votes. That is the majority we must protect and increase this year.
The leadership in the Senate—and many of the issues they consider—is decided by such small margins that every election has the potential to change the course of events in major ways. This will certainly be true in 2008.
The Big Picture:
A quick look at the numbers: Republicans currently hold 23 seats that are up for election, while Democrats hold 12. There are five open seats for retiring members–all currently held by Republicans. There are six seats considered to be toss-ups, with no clear favorite, all six currently held by Republicans.
The mainstream media focuses on the partisan breakdowns, but for gun owners, what counts is if there is a majority in the Senate that supports Second Amendment rights. Right now we have a narrow majority. Whether that majority holds will be decided by only a handful of races.
The 35 Senate seats up in 2008 break down like this:
Fifteen are in the hands of pro-gun incumbents and considered "safe"; that is to say, these incumbents are strongly favored to win re-election. This includes both Republicans and Democrats. In two states, open seat races are not considered likely to see a party change.
Nine are held by anti-gun incumbents who are not considered vulnerable.
That leaves 11 races that are considered competitive. It is in those 11 contests where the make-up of the Senate will be decided. And of those 11, pro-gun senators currently hold nine! Clearly, we have our work ahead of us.
Battleground Races There are tight Senate elections in Alaska, Colorado, Kentucky, Louisiana, Minnesota, Mississippi, Montana, New Hampshire, New Mexico, North Carolina and Virginia. A quick look at each of these races will give you a good idea of the challenge we face in holding on to our pro-gun majority in the Senate.
The Remaining Races Many pro-gun incumbents are running for re-election in other states, and although their races are not considered tight now, they have earned our strong support: Jeff Sessions, R-Ala., Saxby Chambliss, R-Ga., Pat Roberts, R-Kans., Thad Cochran, R-Miss., James Inhofe, R-Okla., Lindsey Graham, R-S.C., Tim Johnson, D-S.D., Lamar Alexander, R-Tenn., John Cornyn, R-Texas, Mike Enzi, R-Wyo. and John Barrasso, R-Wyo.
There are also two races for open seats where pro-gun candidates are expected to prevail, but gun-owner support is crucial. In Idaho, both Lt. Gov. Jim Risch, R, and former Congressman Larry LaRocco, D, have strong pro-gun credentials. And in Nebraska, former Governor Mike Johanns, R, is a strong advocate of Second Amendment rights and will be a valuable ally in the Senate.
The Bottom Line:
The narrow pro-gun majority is certainly in danger in the Senate. For gun owners, the division is not a partisan issue, but one of commitment to the Second Amendment. Gun owners are in a position to make the difference in every close race across the nation. If we do our part, we can protect our majority. We can't "sit out" this election, because there is far too much at stake. And we need to do more than just plan to vote on November 4. We need to give our support to pro-gun candidates by volunteering our time and energy–and when possible our financial resources–to help those who will work to protect our rights.