NRA Announces Bipartisan Congressional Amicus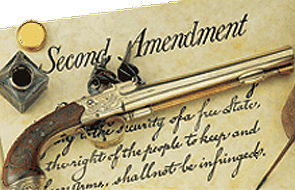 NRA shares this very good news for the McDonald case:
An overwhelming, bipartisan majority of members of the U.S. House of Representatives and the U.S. Senate have signed an amicus curiae, or "friend of the court," brief supporting the NRA's position that the Second Amendment is incorporated against the states through the Fourteenth Amendment. The amicus brief, bearing the signatures of 251 Members of Congress and 58 Senators, was filed with the U.S. Supreme Court today in the case of McDonald v. City of Chicago.
Enough members of the Pennsylvania delegation signed on, including both our Senators, that it's easier just to list who didn't sign on. Those are:
Bob Brady (D, PA-01)
Chaka Fattah (D, PA-02)
Kathleen Dahlkemper (D, PA-03)
Joe Sestak (D, PA-07)
Allyson Schwartz (D, PA-13)
Mike Doyle (D, PA-14)
Out of 19 districts, that's actually a very good showing.