Pro-Gun, Pro-Hunting VP in Sarah Palin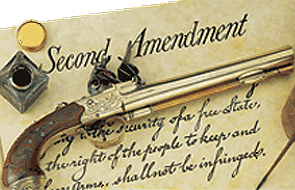 This morning, John McCain announced he selected Alaska Governor Sarah Palin to serve as his running mate in his White House run. Pundits on major news outlets first took note of Governor Palin's strong pro-gun record. On her gubernatorial race website, she made her pro-Second Amendment policies clear:
I am a lifetime member of the NRA, I support our Constitutional right to bear arms and am a proponent of gun safety programs for Alaska's youth.
In addition to her support of gun rights, Palin has been a leader for hunters and anglers in Alaska.
I grew up hunting and fishing in Alaska, and I am proud to raise my children with this same uniquely Alaskan heritage. From a statewide perspective, personal use of fish and game is an integral part of our Alaskan culture and feeds our spirit as well as our families, whether we are fishing for personal use on the Kenai, hunting for moose on the Yukon-Kuskokwim Delta, or fishing for kings at Scandinavian Beach in Dillingham. …

As a lifelong Alaskan who grew up hunting and fishing, I recognize the importance of proper wildlife management to ensure that our fish and wildlife thrive.
This stands in stark contrast to Delaware Senator Joe Biden who wrote and continues to support gun bans that could impact law abiding gun owners like Governor Palin and many of her fellow Alaskans.