Second Amendment Statement by Frank Farry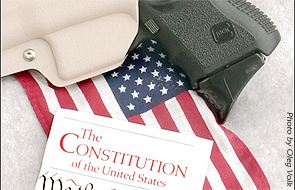 Recently, candidate for State Representative Frank Farry contacted me to let gun owners in the 142nd District know that while there was an oversight in returning the NRA questionnaire, he wants to make sure sportsmen know his views. His campaign sent the following statement:
Frank Farry supports sportsmen's right to bear arms. He's grown up appreciating individuals constitutional right and as a legislator, will stand with gun owners. He is a gun owner himself. Frank will not support any new restrictions on gun owners, including mandatory trigger locks or one gun a month. Frank will form a sportsmen advisory council that will advise him on sportsmen issues.
His opponent is rated C- by the NRA based on the voting record during his only term in office.