Petition Challenges 101 for Gunnies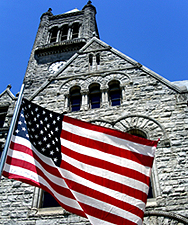 If you thought things were said and done for the May primary, sadly, you were mistaken. A week can radically change the dynamics of any election, and this week was no different. Challenges were filed against 86 campaigns this week in an attempt to get them off of the ballot come May. Next week, we may see candidates dropping out with the final date to remove themselves from the ballot.
Here's a look a peek at how some of the challenges line up for races with pro-gun folks or other high-profile campaigns.
UPDATE: Red Name = Removed from Ballot
Federal
Senate – Joseph Vodvarka
Perhaps you haven't heard of the longshot Democratic challenger to Sen. Arlen Specter and anti-gun Rep. Joe Sestak, well Sestak wants to make sure it stays that way. Sestak is challenging the names on the petition in order to clear any other hurdles in his quest to unseat the establishment-backed Specter this May.
1st District – Pia Varma
Though she does not yet have a grade from NRA, she has certainly made remarks in forums and online that indicate a strong support for the right to bear arms. If a typical challenge against an incumbent politician is an uphill battle, she will have to climb a mountain to unseat anti-gun Rep. Bob Brady. However, that fact doesn't mean much in Philadelphia politics, and Rep. Brady's supporters are challenging her petitions so he won't have to share the ballot.
8th District – James Jones
Challenged by a supporter of a primary opponent, the concerns raised about quite of few of the signatures submitted by Jones would be enough to get him thrown off the ballot. With a 4-way GOP primary, the removal of any one candidate could make a difference in what is perceived to be primarily a race between former Congressman Mike Fitzpatrick and newcomer Gloria Carlineo.
State
Governor
In an unexpected move that sent chatter among the Democratic Party, Dan Onorato tried to have Joe Hoeffel tossed off the ballot by challenging his signatures. According to political reporters, Onorato did this to try and minimize the competition from the eastern part of the state. However, when he realized that with both Hoeffel and Sen. Tony Williams on the ballot, they could battle each other for the Philadelphia-area vote while he campaigns elsewhere, he withdrew the challenge.
Lt. Governor
There was an attempt to remove one of the nine GOP candidates running in the crowded field off the ballot. However, the complaint against Jean Craig Pepper has since been withdrawn. With so many names in this race, it is surprising more questions weren't raised before the deadline to file challenges.
Senate District 4
It appears as though someone is trying to clear the Democratic field for incumbent anti-gun Sen. Leanna Washington in this district that spans the southern portion our region.
Senate District 22
Amid accusations that he did not properly disclose financial interests, anti-gun Scranton mayor Chris Doherty has been challenged by a voter. This is an important one to watch because Doherty has pledged to end state preemption for gun laws and limit the number of guns we may buy. Another Democratic name in the race, Charles Volpe, is being challenged based on his signatures. Meanwhile, there are no such challenges or accusations of shenanigans against Rep. Jim Wansacz who maintains an A rating.
House District 28
The only challenger to incumbent A rated Rep. Mike Turzai has had her petitions challenged by three voters. There are no reports as to the nature of their challenge.
House District 37
The surprise primary challenger to A rated Rep. Tom Creighton has been challenged for his qualifications, and it's likely related to his status within the party whose nomination he is seeking. Candidate Barry McFarland was reported to have been a Democrat as recently as two months ago.
House District 38
C.L. Jabbour, a primary challenger to A rated Rep. Bill Kortz, faces a challenge to his place on the Democratic ballot this May, though it is not clear what about his qualifications is being challenged.
House District 45
A rated incumbent Rep. Nick Kotik is raising questions about the petitions of his Democratic primary challenger, Maribeth Taylor. There have been no reports on what inconsistencies he found with her signatures or qualifications, and he did not raise any concerns about the Republican candidate on the ballot.
House District 48
Two challenges have been filed in this race to replace retiring A+ rated Rep. Tim Solobay, one against a Republican and the other against a Democrat. It's unclear what any of this means for gun owners in the district yet, other than potentially fewer choices on the ballot.
House District 49
A rated incumbent Rep. Peter Daley has allegedly found issues with the petitions filed by a potential Republican opponent. Though Rep. Daley will still face a primary challenge from another member of his party in May.
House District 131
Two voters in the district represented by A- rated Rep. Karen Beyer have challenged the petitions of a Democratic candidate running in the race on the basis of residency. While tax records show that candidate Mike Horton owns property in the district that he listed on his nominating petition, they assert that he actually resides at a different address outside of the district.
House District 147
In this open seat to replace now-Sen. Bob Mensch, the Democratic candidate's petitions are being challenged by an area man. It is unclear what the challenge is in regards to – qualifications, disclosures, or signatures – but this has the potential to make it into a far less competitive race leaving only one GOP name on the ballot. Both candidates are unknowns on the issues important to gun owners.