Petition Challenges 102 for Gunnies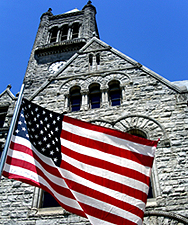 In our first post on the subject, we had time to only review the first half of of the list of challenged campaigns. This is a final look at which challenges have been filed, and news about the campaigns facing ejection from the ballot. We're focused on races that involve pro-gun candidates – whether or not they are the subject of the challenge since it has the potential to transform the electoral landscape.
UPDATE: Red Name = Removed from Ballot
Federal
3rd District – Kathy Dahlkemper
Erie area gun owners may wish to see this F rated incumbent kicked off the ballot this spring, but it seems highly unlikely. There will be busy GOP primary race, and the winner, with a quality campaign strategy, could knock off the Congresswoman who just barely won her seat in 2008 and has made highly controversial votes since taking office.
7th District – Teresa Touey, Gail Conner, Pat Meehan
In seeking this open seat, it is clear that Democratic candidate and F rated State Rep. Bryan Lentz would rather kick everyone out of the sandbox rather than play the game and let the voters decide. Spearheading a challenge to his fellow party members and the lone candidate across the aisle, Lentz clearly doesn't want to take any risks in trying to win Rep. Joe Sestak's seat in Congress.
13th District – Josh Quinter, Brian Haughton, Dee Adcock
In Pennsylvania, challenges to candidates may only be made from members of their own party. That's why it was a shock to find every single Republican challenged by the same people in the 13th District. After the press called, challengers admitted they were recruited by Democratic incumbent Allyson Schwartz who doesn't want to face a November race. Rumors have also swirled that Schwartz even contacted firefighter unions around the state and in Washington, DC to pressure former firefighter Brian Haughton off the ballot. As an F rated incumbent with dirty tricks as a campaign strategy, any change will be an improvement for both gun owners and even non-gun owners who simply consider themselves decent people.
17th District – Sheila Dow-Ford
Challenging A rated incumbent Rep. Tim Holden from the left, the signatures from Dow-Ford's campaign are being challenged by a resident. Even if she remains on the ballot, it's hard to see how this underdog candidate is competitive in the primary against the Congressman who has kept this seat against many odds. The real race to watch will be in the fall against the likely GOP candidate.
State
Senate District 14
This open seat held by retiring Senator Raphael Musto who maintained an A rating is going to be fierce in the Democratic primary which will likely determine the final winner of the seat. One candidate, Tom Leighton, is working with NYC Michael Bloomberg to bring NYC-style gun control to Pennsylvania. Another, is a solid defender of our rights and traditions – State Rep. John Yudichak. The third Democratic candidate, Michael Saporito is facing the petition challenge, and his presence or removal could make a huge impact in this race.
House District 172
Lining up challengers on both sides, B rated incumbent Rep. John Perzel, might have a rough year. However, a Democrat has challenged the candidacies of three of his opponents on the other side of the aisle – Daniel Collins, Tim Kearney, and Karen Rotondo. That leaves only one candidate, Kevin Boyle, as the only Democrat not challenged. In addition to the Democratic challenger, Republican John McDermott has had his petitions challenged.