Success Against The Bloomberg Juggernaut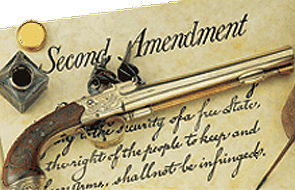 I think it's quite ironic that it would seem that the gun rights movement is particularly strong in Southeastern Pennsylvania. CeaseFire Pennsylvania, in cooperation with Bloomberg's Mayors Against Illegal Guns, have brought their preemption violating "Lost and Stolen" ordinances to my neck of Pennsylvania.
This time we had some grassroots action ready to meet them. First in Radnor, which has tabled the bill until April. On the same day CeaseFire Pennsylvania was tying us up in Radnor, Mayors Against Illegal Guns pushed the same ordinance to Hatboro. Hatboro has rejected the ordinance route in favor of a resolution, which they will be hearing Monday March 22nd. We still oppose the resolution, which urges the General Assembly to pass a state L&S law, but we've made progress. Ambler Borough has decided not to pursue an ordinance a few weeks ago. Now word has it that Swarthmore, Pennsylvania, a bastion of liberalism even back when Delaware County was solidly Republican, has decided to table its Lost and Stolen ordinance.
This has to be huge embarrassment for Joe Grace, EVP of CeaseFire PA, and it's a slap in the face to MAIG too. It's no accident. It's the work of gun owners getting involved, showing up, and making effective arguments to their elected representatives. We succeeded against a strategy that was designed to spread us thin and wear us out. It has, so far, failed to work. I know many readers were involved in these efforts, and we all owe them some thanks, especially to the people who were residents of these municipalities that showed up and spoke. Let's hope we can keep pouring molasses over Bloomberg and Grace's agenda. Let them have nothing without a fight.