Pennsylvania's Hunters Help the Hungry this Season
Those who aren't familiar with Pennsylvania's hunters may not realize that the sport isn't just about getting out into the woods to escape the rush of every day life. For some, they will share what they harvest from Pennsylvania's fields with those most in need.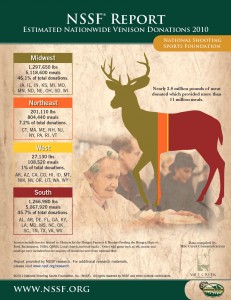 NSSF recently published 2010 data collected from food banks, the USDA, and hunger programs to study how much hunters have given to those less fortunate. The data is split into regional numbers, and it reveals that Pennsylvania's hunters, along with those of eight other Northeastern states, donated more than 201,100 pounds of venison to food banks and hunger programs. All of that meat contributed to nearly 805,000 meals for those struggling during these tough economic times.
Around the country, nearly 2.8 million pounds of game meat were donated to programs that feed the hungry. The result was more than 11 million meals served at a time when food banks across the nation have been depleted as families struggle.
NSSF's Jim Curcuruto points out that the data from confirmed sources is already impressive, "…annual donations could easily be double this amount if 'direct' donations from hunters to friends and family are included."
For more information on how you can contribute if you're a hunter, check out this listing of Pennsylvania processors for Farmers & Hunters Feeding the Hungry or this list of processors from Hunters Sharing the Harvest.