NRA Members Force Mayors Out of Anti-Gun Group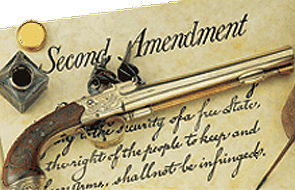 A roar of protest is spreading among Pennsylvania mayors who are rejecting New York City-style gun control and leaving Mayor Bloomberg's anti-gun group. His Pennsylvania coalition once numbered 103 mayors in the Keystone State, and in a matter of weeks, it has fallen to only 91. With help from gun owners who are willing to pick up the phone to protect their rights, we can reduce that number even more.
One report from a mayor claimed that she was called by nearly a dozen gun owners during her lunch hour on the day NRA notifications reached mailboxes. She quickly called to resign from the group, leading the still-rising wave of resignations of Pennsylvania mayors.

View Bloomberg's Anti-Gun Mayors in Pennsylvania in a larger map
As you can see, mayors who have recently left the group include:
Akron Mayor John McBeth
Beech Creek Mayor David E. Orr
Bowmanstown Mayor Keith G. Billig
Harmony Mayor Cathryn H. Rape
Mount Penn Mayor Josh Nowotarski
North Irwin Mayor Leonard L. Santimyer
Summit Hill Mayor Paul R. McArdle
Tower City Mayor Dale Deiter
Ulysses Mayor Jane Haskins
West Reading Mayor Shane Keller
Unfortunately, some mayors are making their position against lawful gun owners clear and standing by Mayor Bloomberg's efforts to restrict concealed carry licenses and sue gun stores out of business. York's John Brenner says he plans to continue his membership and proudly cites his support for eradication of statewide preemption by passing illegal local gun control ordinances. Sadly, the only NRA members featured in the story said they were not willing to make the phone call to demand their mayor stand up for the Second Amendment.
In addition to Mayor Brenner, these local mayors have refused to resign from the group:
Ambler Mayor Charles T. "Bud" Wahl
Carlisle Mayor Kirk R. Wilson
Doylestown Mayor Libby White
East Berlin Mayor Keith E. Hoffman
Gettysburg Mayor William E. Troxell
Hatboro Mayor Norm Hawkes
Mount Wolf Mayor James F. Kinder
Philadelphia Mayor Michael Nutter
Telford Mayor Jay Stover
Windsor Mayor Larry Markel
Let's make sure that NRA members, gun owners, and hunters in these towns are willing to pick up the phone or even send an email in defense of their rights.
Since our update last week, NRA-ILA has launched a detailed webpage to keep gun owners updated on the status of mayors in the anti-gun coalition. The site is a tool to compliment the recent postcard mailings sent to gun owners around the country. You can find not only the current list of mayors, but also mayors who have quit the organization, MAIG members who are not actually mayors as advertised, mayors who recently lost elections, and MAIG members who are currently facing charges or have been convicted of various crimes ranging from assault to corruption.